Cloudways competitors are wp engine, siteground, kinsta.
I have seen most of the people moved from siteground hosting to other hosting providers because of speed and pricing.
Siteground is famous for shared hosting, but not for cloud hosting,
They provide cloud hosting, but the price is too high, their plans start from 100$/month and they don't provide that many features when compared to cloudways.
Kinsta and wp engine also managed wordpress hosting companies, while kinsta plans start from 30$/per month(single wordpress website) and wp engine plans start from 25$/per month(single wordpress website).
Both companies have capabilities to compete with cloudways.
In terms of pricing and website limit, cloudways have done a great job by offering unlimited websites on all plans, pricing starts from 10$/per month.
When ordering, Use "SCREAM20" to get 20% on your first invoice.
If you purchase cloudways through the link available in this blog, we will develop your first wordpress website for free. you can also contact us for queries before purchase.
Wrap up: Cloudways review
Overall Rating: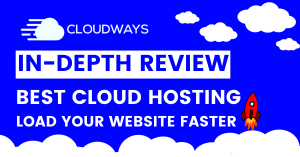 Cloudways hosting is best suitable for freelancers, developers, and for people who are having high-traffic websites and woocommerce websites. I'm giving this review and rating after spending lots of time testing cloudways.
Price: From 10$/per month
We have come to the end of this cloudways review,
I hope I have covered everything about cloudways, this is my honest review.
Now, it's your time to move your website to super-fast cloud hosting.
Just look at the features, and they are giving it for low cost when compared to their competitors.
If you don't have this much of a budget, you can go for Bluehost shared hosting their plans starts at 2.95$/per month. But, It's not recommended for high-traffic websites.
One thing, don't expect the speed and security that cloudways offers in Bluehost.
Bluehost has decent speed and security, but you can't compare it with cloudways, because it's shared hosting not a dedicated server at all.
If you enjoyed this article, share it with your friends and colleagues, we are spending so much time researching, testing, and writing articles for you.
Good Luck👍